100 grams

Buy Silver bars

Legend: Over the counter Yes/No Reviews

Dealer prices updated: 09/12/2023 - 12:20am Uhr, Shipping prices updated: 08/12/2023 - 8:00am

* The indicated prices are inclusive of any applicable VAT plus the separately stated shipping costs.
** The indicated purchase prices are less any applicable shipping costs.

100 gram silver bar

The metallic composition of silver used for making jewellery and silverware is different than the silver that is used in silver bullion bars. Alloys of silver and other metals are used to increase the hardness of the metal for housewares and personal use. The type of silver used in silverware is typically sterling silver, an alloy that contains 92.5% and 7.5% copper. This type of silver is typically stamped with the fineness indication of 925. That number indicates the percentage of the actual silver content. Sterling silver jewellery is often plated with .999 silver. The process of doing so is called flashing, and its purpose is to give the finished product a shine. Silver bars contain a significantly higher total percentage of silver content than either silverware or jewellery, and they are usually stamped with a fineness indication of 99.9%.

The 100 gram silver bar usually comes with an assayer verifying its authenticity. Smaller bars often do not include these. Beginning with this particular size bar, the inclusion of that certificate is somewhat standard. While each mint has different specifications for sizing, each 100 gram bar will have identical weights even if their dimensions differ. Most bars will indicate their weight, the name of the mint that produced the bar, and the fineness indication. Fineness is most often expressed as .999 or higher. This means that it is 99.9% pure silver. Some will have an even higher silver content. Bars from certain mints have a fineness of as much as 99.99% pure silver content. All silver contains some traces of other metals, so the number is never as high as 100%.
Silver price Chart - Silver bar 100 grams
Chose the desired time period:
All product ratings for 100 grams
Unfortunately there are no reviews for this product yet.
Submit first rating now
Advertisement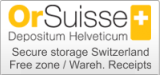 Price comparison
Gold coins (9)
Gold bars (15)
Gold CombiBars (2)
Silver coins (13)
Silver bars (7)
Platinum bars (3)
Platinum CombiBars (1)