1 ounce

Buy Silver bars

Legend: Over the counter Yes/No Reviews

Dealer prices updated: 09/12/2023 - 12:10am Uhr, Shipping prices updated: 08/12/2023 - 8:00am

* The indicated prices are inclusive of any applicable VAT plus the separately stated shipping costs.
** The indicated purchase prices are less any applicable shipping costs.

1 ounce silver bar

Silver has been used as currency since 700 BC. The ancient Lydians mixed it with gold to produce coins made from the resulting alloy: electrum. Silver was later used in its pure form as the standard currency in many different cultures worldwide. During the 1800s, so much silver was found in the Americas that the gold standard was implemented during the following century to protect currencies from inflation. Before that time, silver was such a standardised monetary unit that several languages have a single word that means both silver and money. The two have a history that are closely intertwined. Today, very few places use silver as circulating currency. Instead, it is used in various industries and some is used for making collectible coins and bars. These investments protect against inflation.

A 1 ounce silver bar does not always come with an assayer verifying its authenticity. Smaller bars often do not include these. Each mint has different specifications for sizing, but 100 gram bars will have identical weights even if their dimensions differ. Most bars will indicate their weight, the name of the mint that produced the bar, and the fineness indication. Fineness is most often expressed as .999 or higher. This means that it is 99.9% pure silver. Some will have an even higher silver content. Bars from certain mints have as much as 99.99% pure silver content. Certain mints, such as the Australian Perth Mint, add decorative elements to the reverse side of their bullion bars featuring repeated motifs and other designs.
Silver price Chart - Silver bar 1 ounce
Chose the desired time period:
All product ratings for 1 ounce
Unfortunately there are no reviews for this product yet.
Submit first rating now
Advertisement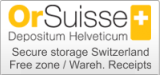 Price comparison
Gold coins (7)
Gold bars (14)
Gold CombiBars (2)
Silver coins (12)
Silver bars (6)
Platinum CombiBars (1)