500 grams

Gold Bars for Sale
Product
Dealer
Price

*

Gold bar
500 g

ABC Bullion
5.0/5.0 (1 Reviews)
Shipping from

A$ 25.00

A$ 39,341.50


Total from

A$ 39,366.50

» open Report issue
Gold bar
500 g

ABC Bullion
5.0/5.0 (1 Reviews)
Shipping from

A$ 25.00

A$ 39,341.50


Total from

A$ 39,366.50

» open Report issue
Gold bar
500 g

Australian Bullion Company
0.0/5.0 (0 Reviews)
Shipping from

A$ 0.00

A$ 39,604.85


Total from

A$ 39,604.85

» open Report issue
Gold bar
500 g

Adelaide Exchange
1.0/5.0 (1 Reviews)
Shipping from

A$ 25.00

A$ 39,684.00


Total from

A$ 39,709.00

» open Report issue
Gold bar
500 g


PAMP Suisse

LBMA certified

City Gold Bullion
0.0/5.0 (0 Reviews)
Shipping from

A$ 27.50

A$ 39,801.00


Total from

A$ 39,828.50

» open Report issue
Legend: Over the counter Yes/No Reviews
Dealer prices updated: 25/09/2021 - 11:10am Uhr, Shipping prices updated: 24/09/2021 - 8:00am
* The indicated prices are inclusive of any applicable VAT plus the separately stated shipping costs.
** The indicated purchase prices are less any applicable shipping costs.
500 gram gold bar

Gold is a naturally occurring metal that cannot be made by humans. For this reason, it is considered a nonrenewable resource. It was deposited into the earth during cosmic events that involved stars colliding. This means that all the gold on planet has been here since before humans came into existence. Its metallic composition is usually of an impure nature when found. It has coalesced with other metals that must be removed during the refining process. Not all impurities can be completely removed. This is why gold bars are always stamped with a number that is lower than 100%. This number indicates its purity, which is usually somewhere between 99.95% and 99.99% for gold bullion bars.

Five hundred gram gold bullion bars are popular among investors. Due to their extremely high value, they are typically not purchased by collectors. They come in standardised dimensions and weights. Each bar is 65 mm in length, 32 mm in width, and 14 mm in depth. Each one also bears an inscription indicating the fineness of the gold, its weight, and information relating to the refinery where it was produced. Gold bullion bars also come with a certificate of authenticity. These gold bullion bars are almost always kept in bank depositories where they can be insured.

Features of each bar
Weight in ounces: 16.08
Dimensions in millimetres: 65x32x14
Gold price Chart - Gold bar 500 grams
Chose the desired time period:
All product ratings for 500 grams
Unfortunately there are no reviews for this product yet.
Submit first rating now
Advertisement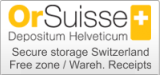 Price comparison
Gold coins (10)
Gold bars (14)
Silver coins (18)
Silver bars (13)
Silver coin bars (1)
Platinum coins (5)
Platinum bars (9)
Platinum CombiBars (1)