250 grams

Gold Bars for Sale
Product
Dealer
Price

*

Gold bar
250 g

Bullion List
0.0/5.0 (0 Reviews)
Shipping from

A$ 0.00

A$ 19,358.68


Total from

A$ 19,358.68

» open Report issue
Gold bar
250 g

ABC Bullion
0.0/5.0 (0 Reviews)
Shipping from

A$ 25.00

A$ 19,389.90


Total from

A$ 19,414.90

» open Report issue
Gold bar
250 g

ABC Bullion
0.0/5.0 (0 Reviews)
Shipping from

A$ 25.00

A$ 19,389.90


Total from

A$ 19,414.90

» open Report issue
Gold bar
250 g


PAMP Suisse

LBMA certified

Bullion List
0.0/5.0 (0 Reviews)
Shipping from

A$ 0.00

A$ 19,459.68


Total from

A$ 19,459.68

» open Report issue
Gold bar
250 g


PAMP Suisse

LBMA certified

ABC Bullion
0.0/5.0 (0 Reviews)
Shipping from

A$ 25.00

A$ 19,479.90


Total from

A$ 19,504.90

» open Report issue
Legend: Over the counter Yes/No Reviews
Dealer prices updated: 18/01/2021 - 9:10am Uhr, Shipping prices updated: 17/01/2021 - 8:00am
* The indicated prices are inclusive of any applicable VAT plus the separately stated shipping costs.
** The indicated purchase prices are less any applicable shipping costs.
250 gram gold bar

The 250 gram bullion bar is one of the most common metric sizes sold worldwide. This size is produced by most bullion manufacturers, and they are typically cast. Some mints, however, use the process of pressing them. This is what is meant by "minting." While this size is one of the smallest sizes of cast bars, it is one of the largest sizes minted. The process of casting involves using a mould that is placed on a scale. When the gold is poured into the mould, the scale will balance when the correct amount has been poured. A small amount is them tested for purity. This testing is referred to as assaying. Most 250 gram gold bars cast by major refineries are refined to 99.99% purity.

Because of its substantial value, these are some of the most popular gold bullion bars produced for sale to both investors and collectors. They come in standardised dimensions, as well as in standardised weights. Each bar is 55 mm in length, 25 mm in width, and 10 mm in depth. Each one also bears an inscription indicating the fineness of the gold, its weight, and information relating to the refinery where it was produced. Gold bullion bars also come with an assayer, verifying its purity. This serves as a certificate of authenticity.

Features of each bar
Weight in ounces: 8.04
Dimensions in millimetres: 55x25x10
material, weight, refiner and certification
Gold price Chart - Gold bar 250 grams
Chose the desired time period:
All product ratings for 250 grams
Unfortunately there are no reviews for this product yet.
Submit first rating now
Advertisement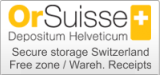 Price comparison
Gold coins (10)
Gold bars (14)
Silver coins (19)
Silver bars (12)
Platinum coins (3)
Platinum bars (7)
Platinum CombiBars (1)
Palladium bars (1)