100 grams

Gold Bars for Sale
Product
Dealer
Price

*

Gold bar
100 g

Bullion List
0.0/5.0 (0 Reviews)
Shipping from

A$ 0.00

A$ 8,534.86


Total from

A$ 8,534.86

» open Report issue
Gold bar
100 g


Perth Mint

LBMA certified

Ainslie Bullion
0.0/5.0 (0 Reviews)
Shipping from

A$ 44.00

A$ 8,542.33


Total from

A$ 8,586.33

» open Report issue
Gold bar
100 g

ABC Bullion
5.0/5.0 (1 Reviews)
Shipping from

A$ 25.00

A$ 8,542.90


Total from

A$ 8,567.90

» open Report issue
Gold bar
100 g

ABC Bullion
5.0/5.0 (1 Reviews)
Shipping from

A$ 25.00

A$ 8,542.90


Total from

A$ 8,567.90

» open Report issue
Gold bar
100 g

Australian Bullion Company
0.0/5.0 (0 Reviews)
Shipping from

A$ 0.00

A$ 8,627.09


Total from

A$ 8,627.09

» open Report issue
Legend: Over the counter Yes/No Reviews
Dealer prices updated: 20/05/2022 - 9:00pm Uhr, Shipping prices updated: 19/05/2022 - 8:00am
* The indicated prices are inclusive of any applicable VAT plus the separately stated shipping costs.
** The indicated purchase prices are less any applicable shipping costs.
100 gram gold bar

While Australia had a series of major gold rushes in the 1850s, the largest gold rushes in world history took place in the United States of America and Canada during the same time. From 1848 on, thousands of prospectors rushed into these territories to stake their land claim and to find gold on the land. Gold prospecting made many rich, but not everyone fared so well. During these times, people scoured river beds and dug with pick axes in search of this sun-yellow metal. Getting gold is much easier today, since refineries offer them for sale to the public in the form of gold bullion bars.

The 100 gram gold bullion gold bar is the equivalent of 3.215 troy ounces of pure gold. This bar has noticeable weight compared to lighter bars, but it still small enough to fit in one's pocket. The dimensions of a 100 gram bar is 55 mm in length, 31 mm in width and 3 mm in depth. These are worth more by weight than the spot price of gold, and to calculate their actual value, the current gold price should be multiplied by 3.215 to get an actual value. Each bar bears an inscription noting its weight, material, and the refinery from which it came. Each one will also come with a certificate of authenticity.

Features of each bar
Weight in ounces: 3.2
Dimensions in millimetres: 55x31x3
Gold price Chart - Gold bar 100 grams
Chose the desired time period:
All product ratings for 100 grams
Unfortunately there are no reviews for this product yet.
Submit first rating now
Advertisement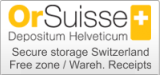 Price comparison
Gold coins (11)
Gold bars (14)
Gold CombiBars (2)
Gold coin bars (1)
Silver coins (15)
Silver bars (13)
Silver coin bars (1)
Platinum coins (4)
Platinum bars (10)
Platinum CombiBars (1)