10 grams

Gold Bars for Sale
Product
Dealer
Price

*

Gold bar
10 g

City Gold Bullion
4.3/5.0 (1 Reviews)
Shipping from

A$ 27.50

A$ 1,044.00


Total from

A$ 1,071.50

» open Report issue
Gold bar
10 g


PAMP Suisse

LBMA certified

City Gold Bullion
4.3/5.0 (1 Reviews)
Shipping from

A$ 27.50

A$ 1,051.00


Total from

A$ 1,078.50

» open Report issue
Gold bar
10 g


Royal Mint

ABC Bullion
3.0/5.0 (2 Reviews)
Shipping from

A$ 25.00

A$ 1,064.10


Total from

A$ 1,089.10

» open Report issue
Gold bar
10 g


Royal Mint

Australian Bullion Company
0.0/5.0 (0 Reviews)
Shipping from

A$ 0.00

A$ 1,096.55


Total from

A$ 1,096.55

» open Report issue
Gold bar
10 g

Australian Bullion Company
0.0/5.0 (0 Reviews)
Shipping from

A$ 0.00

A$ 1,106.55


Total from

A$ 1,106.55

» open Report issue
Legend: Over the counter Yes/No Reviews
Dealer prices updated: 09/12/2023 - 12:20am Uhr, Shipping prices updated: 08/12/2023 - 8:00am
* The indicated prices are inclusive of any applicable VAT plus the separately stated shipping costs.
** The indicated purchase prices are less any applicable shipping costs.
10 gram gold bar

During the Australian Gold Rush Era, people from all over the world came to Australia hoping to stake a claim on land that had gold deposits on it. Each time gold was found in a certain location, hundreds of people would show up in that area ready to dig their way to unimaginable wealth. Before the 1850s, news of gold findings had mostly been kept quiet by the colonial government. This was based on the fear that too much sudden wealth among ordinary citizens would destabilise the newly burgeoning economy. Today, people invest in gold for some of the same reasons they were willing to travel around the world in search of it. Gold typically retains its value well, it can be traded around the world, and it can protect one's investments against the fluctuating values of ordinary paper currency.

The ten gram gold bar comes in standardised dimensions. Regardless of which mint produced the bar, each ten gram bar is 31 mm in length, 18 mm in width, and 1 mm in thickness. Its weight is the equivalent of .32 troy ounces. Each bar has certain basic information inscribed. Each one lists the material of its composition, its weight, and the name of the refinery that produced it. Gold bullion bars also come with an assayer, a certificate of authenticity. Both collectors and investors appreciate the compact size of these bars. These are the largest size available in bullion bars that weigh less than a half ounce.

Features of each bar
Weight in ounces: .32
Dimensions in millimetres: 31x18x1
Gold price Chart - Gold bar 10 grams
Chose the desired time period:
All product ratings for 10 grams
Unfortunately there are no reviews for this product yet.
Submit first rating now
Advertisement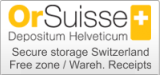 Price comparison
Gold coins (9)
Gold bars (15)
Gold CombiBars (2)
Silver coins (13)
Silver bars (7)
Platinum bars (3)
Platinum CombiBars (1)