1 kilogram

Gold Bars for Sale
Product
Dealer
Price

*

Gold bar
1 kg

ABC Bullion
5.0/5.0 (1 Reviews)
Shipping from

A$ 25.00

A$ 82,923.29


Total from

A$ 82,948.29

» open Report issue
Gold bar
1 kg

ABC Bullion
5.0/5.0 (1 Reviews)
Shipping from

A$ 25.00

A$ 82,923.29


Total from

A$ 82,948.29

» open Report issue
Gold bar
1 kg

Australian Bullion Company
0.0/5.0 (0 Reviews)
Shipping from

A$ 0.00

A$ 83,511.61


Total from

A$ 83,511.61

» open Report issue
Gold bar
1 kg

City Gold Bullion
4.3/5.0 (1 Reviews)
Shipping from

A$ 27.50

A$ 84,539.00


Total from

A$ 84,566.50

» open Report issue
Gold bar
1 kg


PAMP Suisse

LBMA certified

City Gold Bullion
4.3/5.0 (1 Reviews)
Shipping from

A$ 27.50

A$ 84,721.00


Total from

A$ 84,748.50

» open Report issue
Legend: Over the counter Yes/No Reviews
Dealer prices updated: 07/07/2022 - 8:30pm Uhr, Shipping prices updated: 06/07/2022 - 8:00am
* The indicated prices are inclusive of any applicable VAT plus the separately stated shipping costs.
** The indicated purchase prices are less any applicable shipping costs.
1 kilogram gold bar

In ancient times, only royalty and governments had gold in high quantities. While gold bars are made using similar techniques in the past, some of the process has been automated. However, gold bullion bars still look much the same as they did in times past. Because the kilogram bar weighs in at 1,000 kilograms, this is not an amount an ordinary citizen would have had access to in the ancient world. Even by today's standards, this large chunk is worth more than many people can afford to invest. Though bullion bars larger than this exist, they are normally only traded between central banks and international institutions.

Weighing in at 1,000 grams, the one kilogram gold bullion bar is solely for investors. Due to their extraordinarily high value, they are almost never purchased by collectors. They come in standardised dimensions. Each bar is 80 mm in length, 40 mm in width, and 18 mm in depth. Each one also bears an inscription indicating the fineness of the gold, its weight, and information relating to the refinery where it was produced. Gold bullion bars also come with a certificate of authenticity. These gold bullion bars are almost always kept in bank depositories where they can be insured.

Features of each bar
Weight in ounces: 32.15
Dimensions in millimetres: 80x40x18
Gold price Chart - Gold bar 1 kg
Chose the desired time period:
All product ratings for 1 kilogram
Unfortunately there are no reviews for this product yet.
Submit first rating now
Advertisement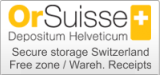 Price comparison
Gold coins (14)
Gold bars (14)
Gold CombiBars (2)
Gold coin bars (1)
Silver coins (16)
Silver bars (13)
Silver coin bars (1)
Platinum coins (4)
Platinum bars (10)
Platinum CombiBars (1)