1 ounce

Buy Platinum bars

Legend: Over the counter Yes/No Reviews

Dealer prices updated: 08/12/2023 - 11:00pm Uhr, Shipping prices updated: 07/12/2023 - 8:00am

* The indicated prices are inclusive of any applicable VAT plus the separately stated shipping costs.
** The indicated purchase prices are less any applicable shipping costs.

1 ounce Platinum Bar

Platinum was officially discovered in the 1700s, although the pre-Columbian civilisations in South America are known to have used it in the 1500s to produce a white gold alloy. 18th century chemists referred to platinum as white gold. They thought it was a form of gold that was less malleable than yellow gold. They turned out to be wrong--platinum is extremely malleable when the right processes are used, and it is not gold at all. However, it does resist corrosion as well as gold does. By the late 1700s, chemists understood that this was a new element that had been previously unknown, and new methods of working with this metal led to its popular use. Spain's "Platinum age" lasted through 1808. Between 1776 and 1808, two chemists produces 18,000 troy ounces of malleable platinum. The process used to accomplish this was kept secret until 1914.

Platinum bars come in a variety of sizes. The one ounce platinum bar is one of the most common sizes available. Bars from different mints are pressed according to the manufacturer's specifications, and different dimensions are used by different refineries. However, 1 ounce bars will weight exactly 1 troy ounce. This is the equivalent of 31.103 grams. Various mints also opt to add different designs to the reverse sides of the bars. Some feature elaborate logos, and others are simpler in design. Each bar has an inscription listing the weight, the fineness of the metal, and the name or logo of the mint where it was produced. These bars typically come with an assayer that certifies their authenticity.
Platinum price Chart - Platinum bar 1 ounce
Chose the desired time period:
All product ratings for 1 ounce
Unfortunately there are no reviews for this product yet.
Submit first rating now
Advertisement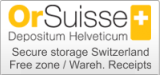 Price comparison
Gold coins (9)
Gold bars (15)
Gold CombiBars (2)
Silver coins (13)
Silver bars (7)
Platinum bars (3)
Platinum CombiBars (1)