20 grams

Gold Bars for Sale
Product
Dealer
Price

*

Gold bar
20 g

City Gold Bullion
4.3/5.0 (1 Reviews)
Shipping from

A$ 27.50

A$ 2,050.00


Total from

A$ 2,077.50

» open Report issue
Gold bar
20 g


PAMP Suisse

LBMA certified

City Gold Bullion
4.3/5.0 (1 Reviews)
Shipping from

A$ 27.50

A$ 2,050.00


Total from

A$ 2,077.50

» open Report issue
Gold bar
20 g


Royal Mint

ABC Bullion
3.0/5.0 (2 Reviews)
Shipping from

A$ 25.00

A$ 2,078.00


Total from

A$ 2,103.00

» open Report issue
Gold bar
20 g

Australian Bullion Company
0.0/5.0 (0 Reviews)
Shipping from

A$ 0.00

A$ 2,097.85


Total from

A$ 2,097.85

» open Report issue
Gold bar
20 g


Royal Mint

Australian Bullion Company
0.0/5.0 (0 Reviews)
Shipping from

A$ 0.00

A$ 2,097.85


Total from

A$ 2,097.85

» open Report issue
Legend: Over the counter Yes/No Reviews
Dealer prices updated: 08/12/2023 - 11:30pm Uhr, Shipping prices updated: 07/12/2023 - 8:00am
* The indicated prices are inclusive of any applicable VAT plus the separately stated shipping costs.
** The indicated purchase prices are less any applicable shipping costs.
20 gram gold bar

Gold is considered to be a noble metal because it does not oxidise under normal conditions. Oxidation leads to rust. This typically does not happen to gold. In its pure form, gold has a sun-yellow lustre. Mixed with other metals, it can take on other characteristics. The most malleable of metals, gold is easy to shape into coins and bars. Because gold has a high density, techniques like gold panning make it easy to allow gravity to separate impure gold from other materials. Once it has been separated from the surrounding materials, it must be refined into a purer form. This is what refineries do. Afterwards, the process of actual casting or minting can begin. Before being pressed or cast into gold bullion bars, the gold goes through a process that can remove almost all of the impurities. The indication noting this ratio is referred to as a fineness rating.

The 20 gram gold bullion bar weighs .64 ounces, almost two-thirds of a troy ounce. These bars are always inscribed with indications noting the material, its fineness, the weight, and the name or symbol indicating which refiner produced it. Various mints opt to use different markings to distinguish their bars from those produced at other mints, so certain variations are common among bars from different mints. Some mints inscribe only the most basic information on their bars, while others will add more decorative elements. Each one comes with a certificate called an assayer, proving its authenticity. The dimensions of a 20 gram bar are 31 mm in length, 18 mm in width and 1 mm in depth.

Features of each bar
Weight in ounces: .64
Dimensions in millimetres: 31x18x1
Gold price Chart - Gold bar 20 grams
Chose the desired time period:
All product ratings for 20 grams
Unfortunately there are no reviews for this product yet.
Submit first rating now
Advertisement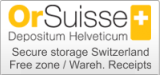 Price comparison
Gold coins (9)
Gold bars (15)
Gold CombiBars (2)
Silver coins (13)
Silver bars (7)
Platinum bars (3)
Platinum CombiBars (1)